Progesterone Injection, USP
Progesterone injection contains the natural female hormone progesterone. Progesterone injection is indicated in amenorrhea and abnormal uterine bleeding due to hormonal imbalance in the absence of organic pathology, such as submucous fibroids or uterine cancer.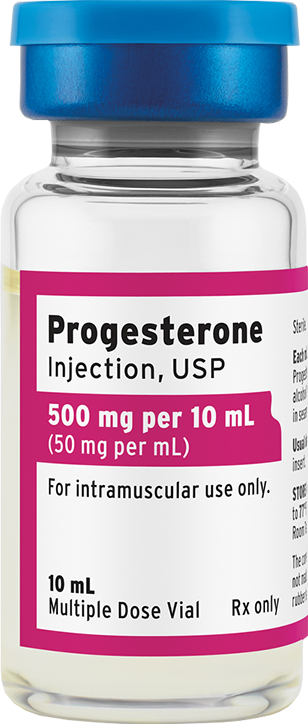 Important Safety Information
INDICATIONS AND USAGE
Progesterone Injection, USP is a sterile injectable solution containing the natural female hormone called progesterone. Progesterone Injection is a prescription medicine used for the treatment of amenorrhea (absence of menses in women who have previously had a menstrual period) and abnormal uterine bleeding due to progesterone deficiency.
IMPORTANT SAFETY INFORMATION
Do not use Progesterone Injection if you:
are allergic to progesterone, progesterone-like drugs, benzyl alcohol or sesame oil/seeds. 

have unusual vaginal bleeding which has not been evaluated by your doctor. 

have liver disease. 

have known or suspected cancer of the breast or genital organs. 

have a miscarriage and your physician suspects some tissue is still in the uterus. 

have or have had blood clots in the legs, lungs, eyes, or elsewhere.
Progesterone Injection may cause serious side effects including:
Abnormal blood clotting. Blood clots have been reported with the use of estrogens and progestational drugs (alone or in combination). If blood clots do form in your bloodstream, they can cut off the blood supply to vital organs, causing serious problems. These problems may include a stroke (by cutting off blood to part of the brain), a heart attack (by cutting off blood to part of the heart), a pulmonary embolus (by cutting off blood to part of the lungs), or other problems. Any of these conditions may cause death or serious long-term disability. Call your doctor immediately if you suspect you have any of these conditions. He or she may advise you to stop using this drug. 

Be alert for unusual signs and symptoms. If any of these warning signals (or any other unusual symptoms) happen while you are using Progesterone Injection, call your doctor immediately: 

Abnormal bleeding from the vagina. 

Pains in the calves or chest, a sudden shortness of breath or coughing blood indicating possible clots in the legs, heart, or lungs. 

Severe headache or vomiting, dizziness, faintness, or changes in vision or speech, weakness or numbness of an arm or leg indicating possible clots in the brain or eye. 

Breast lumps, which could be associated with fibrocystic disorders, fibroadenoma, or breast cancer. (Ask your doctor or healthcare provider to show you how to examine your breasts monthly.) 

Yellowing of the skin and/or white of the eyes indicating possible liver problems. 
Before taking Progesterone Injection, tell your doctor about all of your medical conditions, including if you: 
are pregnant, planning to become pregnant, or become pregnant while taking Progesterone Injection. 

are breastfeeding or planning to breastfeed. Small amounts of drug have been found in the milk of nursing mothers. The effect on a nursing infant is not known.
Tell your doctor about all the medicines you are taking, including prescription and over-the-counter medicines, vitamins, and herbal supplements. Progesterone Injection may affect the way some medicines work and some medicines may affect the way Progesterone Injection works.
Side effects of Progesterone Injection may include: The following side effects have been reported with Progesterone Injection. Consult your doctor if you experience any of the side effects mentioned below, or other side effects.
breakthrough bleeding 

amenorrhea 

general swelling 

breast tenderness, discharge from the nipple 

hair loss or growth of new hair 

insomnia or sleepiness* 

nausea 

spotting 

change in weight (increase or decrease) 

vaginal discharge 

skin reactions including rash, hives, itching, and swelling 

mental depression 

changes in menstrual flow 

pain, irritation, swelling, and/or redness at the injection area 

yellow discoloration of skin or white of eyes 

acne 

fever 

anaphylactoid (life-threatening allergic) reaction with symptoms that may include a sense of uneasiness or apprehension; flushing; fast, throbbing heartbeat; itching; hives; difficult breathing; swelling of the throat; fainting; nausea; vomiting; or convulsions.
* If you experience sleepiness, do not drive or operate machinery.
These are not all the possible side effects of Progesterone Injection. Tell your doctor about any side effect that bothers you or does not go away.
You are encouraged to report negative side effects of prescription drugs to the FDA. Visit www.fda.gov/medwatch or call 1-800-FDA-1088.
This Important Safety Information does not include all the information needed to use Progesterone Injection safely and effectively. To learn more about Progesterone Injection, talk to your doctor or pharmacist. Please see the full prescribing information for Progesterone Injection and Patient Information.